Don't have any experience with online earnings on the internet? Does not matter. The easiest is to start with the PTC clicking.
After viewing the advertised ad and clicking on it, you will receive a small amount of money. If you do not get enough referrals
(people who register through your reference link and help you and themselves), you will find your earnings too small.
However, you will learn to orient yourself in the environment of online business, you will get to know business and financial trends,
you will gradually distinguish serious companies from fraudulent ones. You'll start promoting your links and see
which type of ad is most effective for getting new referrals.
You will engage in meaningful activities on a daily basis, learning patience, perseverance and responsibility.
If you do this work (regularly) for at least three months, you can start the next step. This may be starting
your own blog with content that is closest to you. You can then register as an affiliate partner to companies,
that offer and sell products that match the content of your blog or website.
And by you bringing clients to their e-shops, from partner companies you get long-term interesting commissions.
If your commission revenue isn't enough over time, you can switch to legal network marketing (MLM),
where you can make really big money. However, building a network marketing is not easy and may take even a year
before you get to the higher earnings. Here you will benefit from everything you have learned at PTC clickings.
However, with fraudulent multilevel marketing, there is a real danger that you will lose all money invested and earned.

Companies based on the so-called Ponzi (and pyramid) scheme can literally "pluck" you.
Therefore, it is necessary before registration for each project offering business in the form of network marketing,
carefully study the business conditions, take an interest in the people behind the project, read the experiences of others...
Even then, however, you do not have a 100% guarantee,
that you will succeed in your chosen online business. It's just a business like any other, and it carries the risk of bankruptcy.

Invest only as much money as you can afford to lose...

Under no circumstances borrow money for investments! If you are not one of the richest people...

So it's up to you if you on this great internet adventure embark just like me...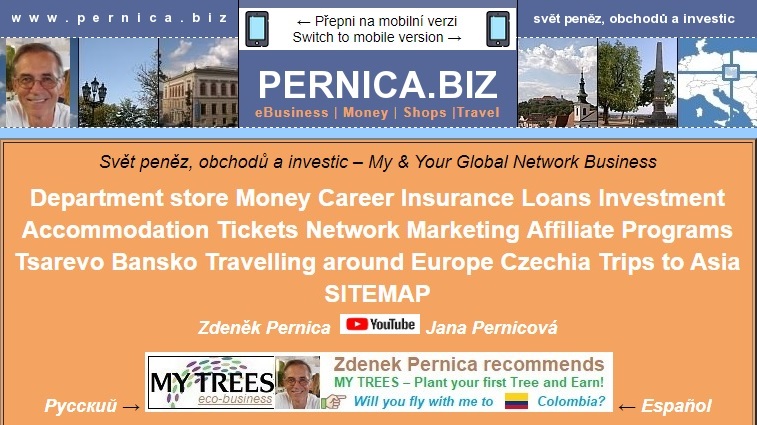 INVESTMENT


We offer tree seedlings of eucalyptus (Eucalyptus pellita) grown on plantations
in the Colombian department of Vichada (El Morichal locality). Trees can be bought
from 1 pc (price $20) or after quantity packages - 6, 31, 93, 187, 562 and 930 pcs.

When buying a larger number of seedlings (from 187 and more) by the end of 2020,
you will receive several dozen eucalyptus trees for free. The type Eucalyptus pellitais a fast-growing tree
and after only 7 years it can be felled and logs processed for the wood, furniture & energy industries.

The purchase of eucalyptus seedlings is suitable for individual beginning investors, as well as
for experienced entrepreneurs and companies looking for a long-term global investment opportunity.
Large investors are also offered the option to purchase land in Colombia.

Investment period is 7 years.

Investment appreciation - 5% / 8% / 10% per year + income from the sale of trees.



For detailed information on one-time or regular investments, see
HERE
BUSINESS


Let's save the Amazon rainforest by planting fast-growing trees around it...

We offer experienced and beginning marketers access to the Czech and global project MY TREES,
which started on April 22, 2020.

In today's economically uncertain times, engaging in this nascent online eco-business,
which is not affected or threatened by the Covid-19 pandemic, is more than beneficial and promising.

Investments in fast - growing trees - eucalyptus trees (type Eucalyptus pellita),
acacia mangium (Acacia mangium) - the flowers are suitable for breeding honey bees
and other local woody plants such as cashews...

Yes, eucalyptus seedlings are gradually planted on My Trees' own land (plantations)
(purchased and represented by a Czech joint-stock company DEGIRANS SE) in faraway Colombia.

Although South America may seem like a very risky continent for investment,
Colombia just now is one of the most stable and economically developing countries in recent years,
and many foreign investors from around the world are heading to this South American country.

Type of tree Eucalyptus pellitagrows to a height of up to 25 meters
and after only seven years, it can be felled, processed and conveniently sold to timber companies.

If you are interested in the My Trees project
(online eco-business connecting investment and binary network marketing),

you can look at more information HERE or directly register JOIN.



NEWS!
In addition to bank transfer, the starter package (and 1 tree) can now be paid for with your card!
It will only cost you 5 minutes of your time and $ 20.60.

Will you be the first to pay the payment gateway just
NOW
???
It is possible that online business, Internet business is not for your nature.
You prefer to work with a contract and an employer. Even for you, the job offer is basically unlimited.
Take a look at agencies that provide mostly online activities. Career offers with a local and global focus.
Choose from our overview...
PERNICA.BIZ PERNICA.BIZ