Czech Republic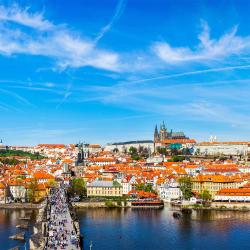 ↑↑↑
Visit capital Prague – Czechia
Do you Remember Czechoslovakia...

...and perfect Tatra trucks, motorcycles Jawa, Zetor
tractors, trams and locomotives Skoda brand,
printing machines Romayor from Adast and other
products with label
Made in Czechoslovakia?

Since 1993
after the Peaceful division of Czechoslovakia,
Czech Republic (official country abbreviation Czechia)
became an independent state of three
historic territorial units → Bohemia, Moravia & Silesia
and with 14 self-governing regions
with Capital city Prague (Czech name = Praha).
Slovak Republic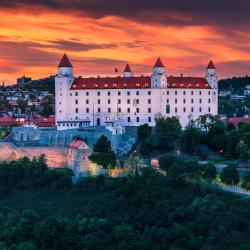 ↑↑↑
Visit capital Bratislava – Slovakia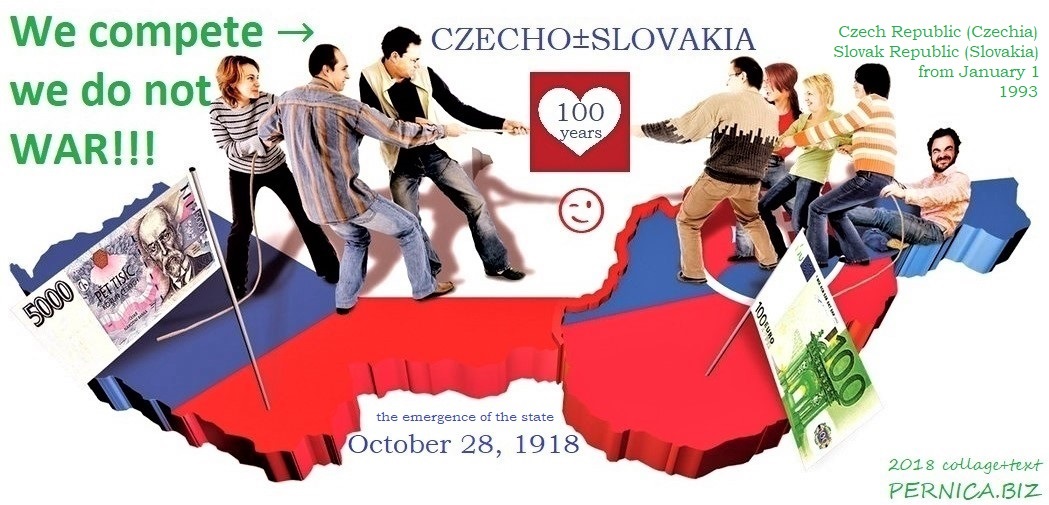 ↓ BOHEMIA ↓

Why visit the Czechia?

In the small area (78 867 km²) in the middle of Europe
will find everything. You can find everything excepting
the sea, high mountains, tornadoes, tsunamis and earthquakes...
The preserved historic city centers, castles, temples, spas
and cozy pub with the best beer in the world, highest quality wines
from Moravian vineyards, traditional Czech and Moravian cuisine
and the perfect romantic accommodation
including nightly entertainment - this all "wrapped"
in beautiful natural scenery around the cities.


How to communicate in Czechia?

Czech or Slovak, of course!:-) But seriously
- most young people speak English, the middle
and older generations speak Russian or German.
In the Czech Republic is also a large Slovak,
Ukrainian, Vietnamese and Chinese community,
in western Bohemia Russian and in northern Moravia
and Silesia also lives Polish minority...


The Czech Republic is not only Prague (Praha) and Bohemia,

but very nice is Moravia and Silesia and their centre cities – Brno, Olomouc, Ostrava, Zlín.


↑ MORAVIA and SILESIA ↑



Welcome to Bohemia, Moravia and Silesia!

Dear guests, citizens of the Czech Republic - Czechs, Moravians and Silesians
(including national minorities living in this area) are usually very friendly, decent, hardworking and hospitable people.
They have no problems communicating from visitors from foreign countries
who abide by our laws and respect our traditions and customs, based on Christian-Jewish roots.

If coming to the Czech Republic legally, for education, for entertainment and culture, historical monuments and gastronomy,
you will be in our country always welcome and you will meet also with understanding and assistance in case of emergency.


However, if you are not willing to respect our rules and adapt to our customs, you intend impose upon us to your way of life
and bring religious and racial hatred, are not tolerant to atheists, homosexuals and lesbians,
do not accept the equality of women and want to abuse our social security system,

DO NOT GO to the Czech Republic!


You could meet not only the hidden but open hostility and even physical attacks from Czech citizens against your person
during your inappropriate behavior. In the case of non-compliance with Czech laws you are threatened by the police
and judicial authorities of the Czech Republic's arrest, stay in the detention facility
and the subsequent expulsion from the country.

If you are a refugee from war-affected areas or the aim of political or religious persecution, give you an application for asylum
at the nearest embassy or consulate of the Czech Republic and wait for the outcome of the asylum procedure.

Warning: The Czech Republic does not accept illegal migrants!

Czech Republic is a small country of great personalities - smart, talented and educated people:

Do you know where the world famous celebrity come from...

Bohdan Pomahač - Face transplants, Antonin Holý - drug against AIDS, Otto Wichterle - contact lenses
Music composers Antonín Dvořák, Leoš Janáček, Bohuslav Martinů, Bedřich Smetana
Directors Oscar Winners Miloš Forman, Elmar Klos-Ján Kadár, Jiří Menzel, Jan Svěrák
Tennis players Martina Navrátilová, Ivan Lendl, Petra Kvitová, Tomáš Berdych
Athletes Emil Zátopek, Jan Železný, Barbora Špotáková and speed skater Martina Sáblíková
Writers and Playwrights Franz Kafka, Karel Čapek, Jaroslav Hašek, Ludvík Kundera and Václav Havel?

↑↑↑

↑ Brno→London→Brno ↑





↑↑↑

The Czech Republic is one of the most advanced industrial countries in the world

Do you want to work or study in the Czech Republic?

The Czech Republic is interested in highly skilled workers from around the World.
Enables young people to study at prestigious Universities in Prague, Liberec, Brno, Olomouc and Zlín.
In particular, Masaryk University in Brno city (300,000 residents + 80 000 students)
- the largest Czech University Center and the "Brain of the Republic" -
offers excellent conditions for study.
↓↓↓




Welcome to the University and Scientific Center in Brno → Czech Silicon Valley!



Jobs in all cities Czech Republic - search - more than 150 000 jobs available!

All Public Transport in Czech Republic - search - Trains + Buses + Trolleybuses + Tramways



bg cs dk de ee gr gb es fr it lv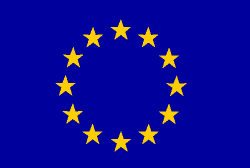 lt
hu
mt
nl
pl
pt
ro
sk
si
fi
se
Czech Republic in the heart of Europe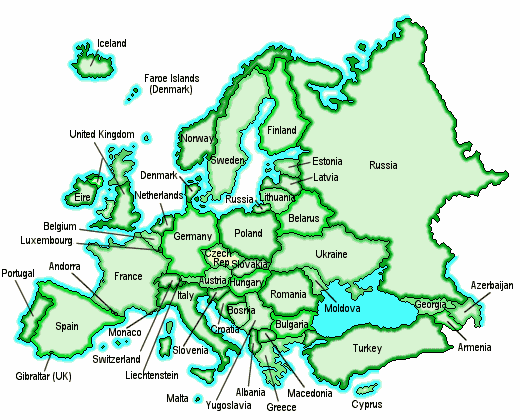 Visit all European Metropolises and discover the Life of the Residents - Arrival and Stay and Enjoy